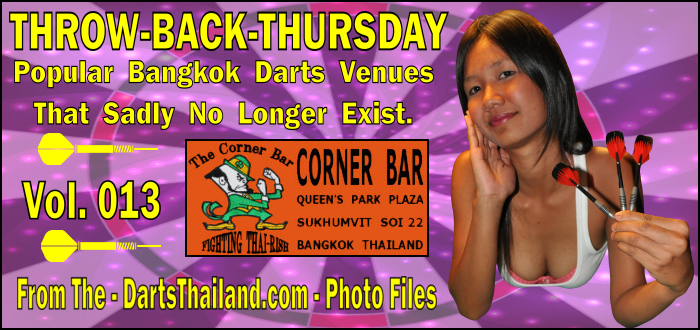 Welcome to our latest TBT article as we feature yet another popular darts venue that is no longer with us. The Corner Bar in Queens Park Plaza was a popular destination no doubt influenced by its publican the lovely, ever affable Miss Jeaby. The Corner Bar was originally a pool bar with two full-sized tables. Then Jeaby wisely decided to add a darts throw increasing the bar's popularity even more.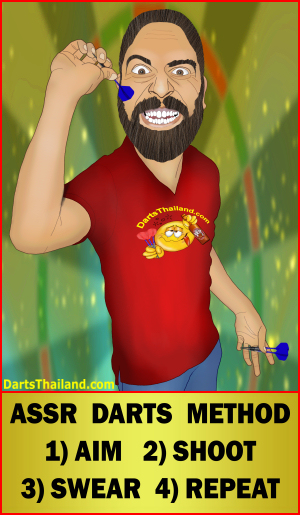 Captain Jeaby had no problem staffing darts teams to compete in Bangkok's darts leagues. Corner Bar played in The Lower Sukhumvit Darts League which was considered or at least intended to be a fun league with players ranging from the newest to upper mid level. Beyond that was the Bangkok International Darts League which welcomed all but also included some of Thailand's top darts players. Talk about a learning experience – the opportunity to play against some top talented darts players. Nothing quite puts your own darts progression skills in the fast lane!
No surprise, Corner Bar was a favorite of mine even well before the darts throw was added. When I first moved to Bangkok on a permanent basis Queen's Park Plaza was then under construction. Right from the get-go, I was attracted to the Corner Bar not only because of their fine staff bur also being the only bar in the plaza or the area with Guinness Draught. Ah, ain't nothing like a pint of Guinness !
Corner Bar's logo "Fighting Thai-Rish" is the creation of our good friend JP Oreilly – aka Jake – aka Crazy Jake & aka many others we cannot print here. Corner Bar was Irish owned. First coming to Bangkok I was looking for a Polish bar with a clientele that enjoyed drinking & darts. I was informed that Polish clubs did not exist but if I was looking for a group that enjoyed drinking & playing darts to check out an Irish bar. With this information, I was not misdirected.
When Corner Bar changed ownership our good friend Angus decided to give a Bangkok bar biz a go. Angus had operated the Londoner Bar in Pattaya before that, always having a talented darts team. Angus kept up the look and style of the Corner Bar and maintained the clientele. There was one more owner after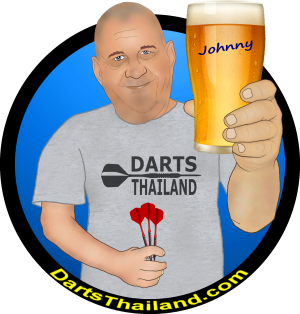 Angus before the demise of Queen's Park Plaza but as I have learned in life – if you cannot say anything positive – say nothing at all.
In it's relatively short existence, The Corner Bar did make its mark. Many thanks to Miss Jeaby and all the colorful characters that these photos bring back to us with happy memories. RIP to those no longer with us. I hope to soon be reporting positive darts news & darts venues in a post-virus era. Stay strong, stay positive & Good Darts ! – Johnny – DartsThailand.com