Last month I touched on what is the first thing to do when taking this wonderful game seriously, namely having the right darts for YOU. This month is all about darts technique or the way darts are thrown. There is no exact science when it comes to holding or throwing darts. Personal feel is likely to create a throwing method for each of us, but if anyone wants to improve beyond their current proficiency, then refined technique is an area that should be addressed.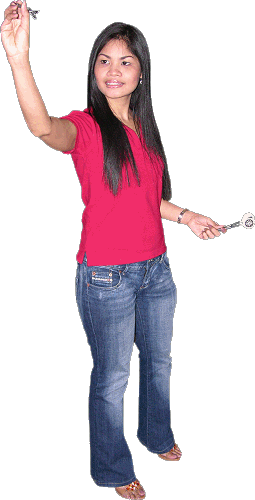 'Back to Basics' is a term used by all achieving sportspersons who study their game of choice. Basics are the building blocks that enable an individual to evolve from a novice at the game (any game) to an accomplished player. These fundamentals if applied will always stay with them and most certainly be revisited from time to time when they "lose the feel"

What makes a good player at any sport stand out from the average Joe. I believe it is 'sustainable repetition'. In darts the reason why some people can hit 140's regularly is because they can consistently throw their darts at a target marginally smaller than the area of the semi-bull (25). This requires good technique and good technique requires practice but starts with good habits.

Stance: Some players throw with their toe at the line, while others have the outside of the foot along the line. As long as you maintain good balance, this again is personal choice, and individual flexibility but the latter does move you slightly closer to the board.

Position: Always throw from the same position, whether it be centered or offset to the left or right. Whatever works best for you, shifting around creates bad habits and dissipates form.

Stability: All good players at the game have limited body movement. The perfect throwing technique would see only the forearm extending to the board from a horizontally maintained upper arm, with all other body parts reasonably to perfectly still.

Rhythm and tempo, these two are not the same but one will not work without the other.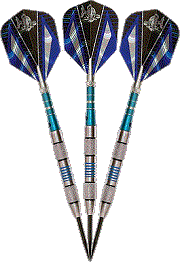 Rhythm: is the total amount of time it takes to throw three darts, each taking the same amount of time. The longer the rhythm time, the harder it is to maintain. If it takes more than 15 seconds to throw all three darts, work on reducing your throwing time. Similarly if you throw all your darts in 8 seconds or less try extending to 10-12

Tempo: is the speed and force with which you throw each dart. Consider this; darts are designed to travel with an arc or a curve, landing at an angle with the flight slightly higher than the point. The level of arc that each of us creates depends on the force used and the weight of the dart. Light darts will usually require slightly more force than heavier darts and therefore will naturally have less arc. Again this is all personal choice but try developing a controllable throw that is unhurried yet rhythmic, easily repeatable, but balanced.

• Develop good habits
• Establish good posture and position
• Maintain good rhythm
• Discover a good repetitive tempo


Then comes, practicing your darts technique.
There are many practicing methods and any practice is good – to a degree, but when practicing to develop a good darts technique having incorporated all the above then a disciplined regime is called for.

Find three targets on the board the size of the semi bull that you are prepared to throw at for long periods of time say at least one hour. These can be treble 20, 16 and 15. Spend 20 minutes on each before moving to the next. Soon you will find that grouping your darts in that small area is not so difficult as long as you maintain the development rules above, then you can move on to specific double or treble targets around the board.

• Use disciplined practice without deviation
• Good practice will give good repetition

Good shooting
Ben