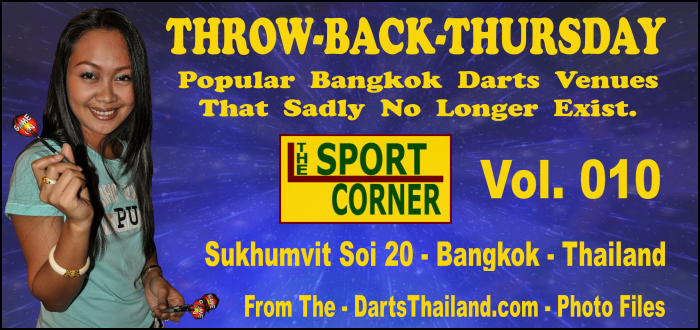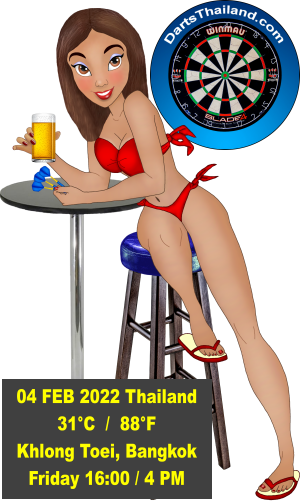 New Year Greetings – times two! Now in a new calendar year & recently celebrating the new Chinese Tiger New Year! We all hope this new year will bring back open travel with darts tournaments and reunions of international darts friends at our friendly Thai darts oches, bars, pubs, weekly events and open comps.
This report features a popular Bangkok venue "Sport Corner" on Sukhumvit Soi 20. Happy to report that it is still there & in operation – but sadly no longer a darts venue. Such is the fate of many darts venues. Some venues develop a darts clientele and the owner decides to support them with a darts throw area. All good – but people move on and the fate of successful operating darts venues as well. The heyday of darts at Sport Corner was largely do to the contributions of team captain Ron.
Sukhumvit Soi 20 has an interesting darts history. More recently, after the Sport Corner's darts venue era ended – an attempt by The Red Tiger located in the ground floor Rembrandt Hotel gave it a Soi 20 go – with a darts throw area. Sadly this darts throw and the Red Tiger was short lived venture.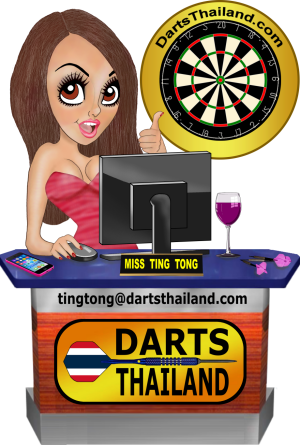 Ironically the long time Bangkok iconic Windsor Hotel on Sukhumvit Soi 20 once hosted many of the Thailand Darts Open International events. As we always mention – if you have any photos or memorabilia from these events please contact us here at DT. We will of course, credit you with any and all contributions. Contact me – Miss Ting Tong or our lazy DT editor Johnny here or at the DT website.
Looking forward to meeting up with you at one of our many friendly Thai darts venues. – Miss Ting Tong – DartsThailand