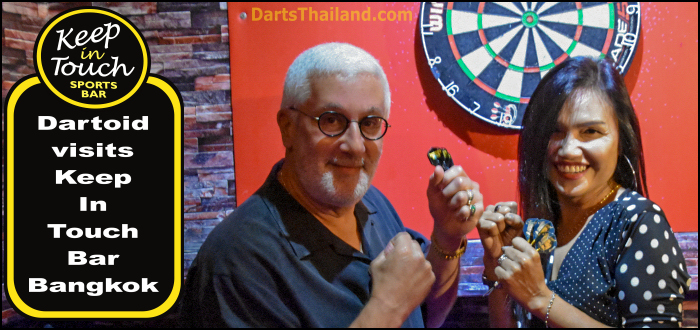 Greetings dart players and hope that your darts are flying straight and true. A really enjoyable task we here at DT have is highlighting different darts bars. Ain't nothing better than introducing darts folk to a new darts venue and fellow great darts folk. If you make such a new darts bar discovery as a result of one of our articles – please mention this to its proprietors. This may or may not have them shout you a drink – but at least it will help increase our world-wide darts network.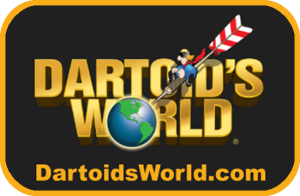 Long time friend of the Thailand darts community – Paul "Dartoid" Seigel recently visited Bangkok and we had the opportunity to pop in the Keep In Touch Bar. Paul, "Dartoid" is an established darts writer with a popular website with regularly published articles and a most favourite monthly featured double out gal. Paul has had the opportunity to play darts in more places than most dart pros – some the most remote locations around the globe.
In the many years that he has been visiting Thailand, Paul has participated in darts comps, joined in league play and played in any and every darts venue he could find. Check out on Youtube special darts events that DT set up and produced for Paul – "Darts, Man Vs Elephant" & "Dartoid Vs. The Ladies : Bangkok" – links found below. Get to know more about Dartoid and all he does to promote darts around the world my visiting his website and/or FaceBook page.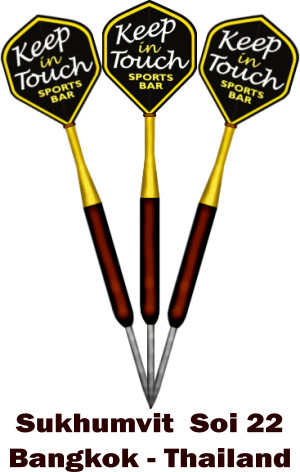 And now – to our featured darts venue – "Keep In Touch" Sports Bar. You could not hope to find a better example of a friendly, laid-back, traditional local pub. This bar has a genuine personality – not what you find in far too many chain, theme orientated "plastic pubs" which has now unfortunately become the norm. Keep In Touch – is a "real" bar run by "real" people. Pop in any time and meet the "Keep In Touch" publican – the lovely and most affable Miss Apple. She is also a formidable darts player !
Apple runs an excellent operation with a friendly, happy staff. Yes, more photos than usual of the draught beer pumps and with good reason. Keep In Touch has the best selection of quality draught brews found anywhere on Soi 22. Hmm, the thought of a pint of Dwyers Cream Stout after I get this published sounds like an excellent plan to me. Darts player or not one – if you haven't already discovered this great little pub – you will be well happy when you do. – Johnny Witkowski – DartsThailand.com
Dartoid's World
http://dartoidsworld.net/
https://www.facebook.com/Dartoids-World-240110309359471/
Youtube Links
Darts, Man Vs Elephant
https://www.youtube.com/watch?v=Ru_PGPMmKlY
Dartoid Vs. The Ladies : Bangkok Thailand 2009
https://www.youtube.com/watch?v=-3tz_fvthKA
Keep In Touch
FaceBook Page
https://www.facebook.com/Keep-In-Touch-Bar-403168196745118/