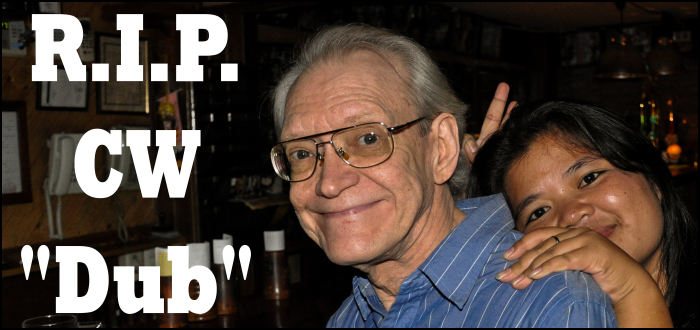 It's with deepest sadness that I report the passing of a long time friend of many in the Bangkok darts community. CW, known as Dub to his family, passed away this past Sunday. He'd been ailing for a while and was rushed to hospital the Friday before. I've been in contact with his family members back in the States. Siam Funeral Home will be handling his cremation. Details are still being worked out but when the date is set – I will post the date and info on our FB pages.
CW was a good friend that I've known for a good many years. Not sure exactly when we met but it would have been over a beer while playing darts. CW captained dart teams out of New Cowboy playing in the LSDL (Lower Sukhumvit Darts League) for quite a few seasons. He played for Aloha Bar and Corner Bar in other leagues. He never missed any of the additional darts knock-outs and other special darts events.
CW was also a contributor on DT with reports and regular write-ups from what was a weekly darts event out of New Cowboy called "Why Darts" named for Miss Wai – who organized the events. Sadly she died way too young of cancer a few years ago. The accompanying photo gallery is from many of these mentioned references.
CW was in no way camera shy and was always willing to strike an animated pose for any advert we needed on DT. The ones I included in the photo gallery were among his favorites. I tried to include a wide variety of photos including CW favorites and with as many people as possible. My apologies to any I have missed. I hope that I have selected photos that will bring back fond memories.
Anyone who knew CW knew that he for sure had the gift of gab. But a topic he didn't talk much about is when he first visited Bangkok. It was for an R&R break from his combat unit in Vietnam. Even back then he was identified with an aptitude for advanced communications and trained in that field. CW had a break in service but after a period of civilian life – reentered the army. After more advanced communications training he was selected to attend DLI – the Defense Language Institute where he studied Mandarin Chinese.
CW spent the second half of his army career assigned to embassy duty serving around the world in US embassies, many in some less than desirable locations. To be selected for this kind of duty requires a special skill set and to remain in it requires exceptional performance in all assigned duties. Of course, most of this he was not at liberty to discuss. I'm not trying to to impress you with this about CW but merely to make you aware of his proud military past that you may not have known anything about.
But there were some really entertaining stories that did not violate any security regulations – that he told me on some late beer drinking nights. I'll write those out – nothing naughty – just some humorous things that happen to those maintaining sanity under insane conditions. I am also retired army – but had an easy job and never served in a combat zone. But I have the upmost respect for all who served in combat zones.
I will post updates about CW's cremation ceremony as I receive them from his brothers. If you are now reading this on our DT website and care to comment or offer condolences to his family – click on one of the following links to go to one of our FB pages. – Johnny – DartsThailand.com
DartsThailand
https://www.facebook.com/DartsThailand/
* * * OR PREFERABLY * * *
DartsThailand (Discussion Group)
https://www.facebook.com/groups/dartsthailand/