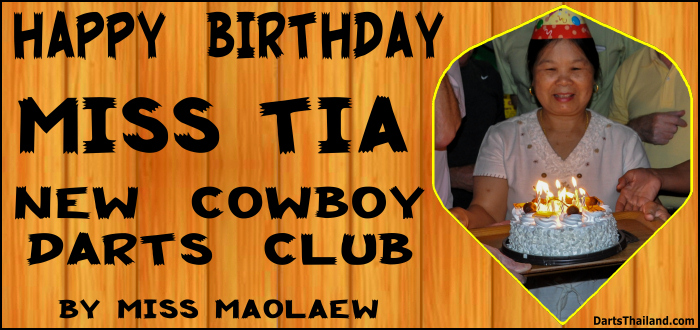 Last Friday saw a great turn-out at New Cowboy not only for darts but also to get together and celebrate Miss Tia's and regular patron David's Birthday Bash. Tia's had an extra added challenge blowing out her birthday cake candles as the girls had purchased some of them "re-lighting" candles. So the order of blowing out the candles is not out of sequence in the following photo gallery – they just kept re-lighting. Many thanks to New Cowboy for the excellent food spread adding as always to a great night of darts.
This was our last team group darts practice round before our much anticipated away match this Saturday (21 Jan 2017) at our favorite darts venue in Jomtien Beach – Don't Tell Mama Bar. This is going to be Round #5 in our popular Friendly Darts Challenge Series – playing one match at one home venue and the next at the other. Over our last four matches we've developed great friendships with DTM and their fine staff and the great folks playing darts for their team.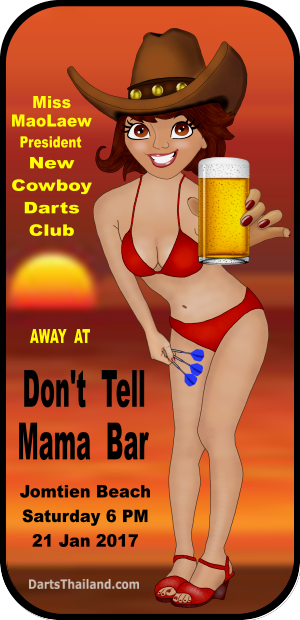 For any New Cowboy Darts Players who have still not committed to joining us in Jomtien – we still have room for more players. Our main group will be departing from New Cowboy via mini-van on noon this Friday – seats still available. Also please feel free to join us at DTM on Saturday 6 PM start time. There is no required level of darts skill to join us – this obvious to anyone who've already seen us play darts. We have a great time with some great people, knocking back a "few" drinks AND play darts.
WARNING to Steen (Captain of DTM Darts Team). Our New Cowboy Darts Team will have a "secret weapon" this Saturday ! For the first time – New Cowboy's team will have "Adult Supervision." Miss Tia will be leading our team to victory. Being a responsible adult – Miss Tia has commitments on Friday but will be joining us on Saturday at DTM. So your team best sharper up your darts and get in as much practice as possible before our match !
See ya'll Friday !
Miss MaoLaew
Club President
New Cowboy
Darts Club