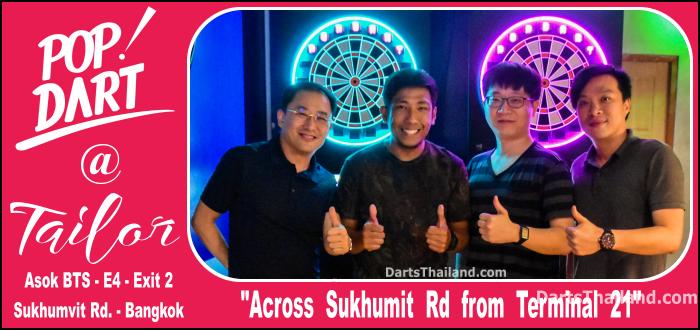 Pop Dart dartboards at Tailor Bar – across from Terminal 21 in Bangkok. Many thanks to the Pop Darts reps and their genuine hospitality. I look forward to featuring these guys behind Pop Dart in the future. But the focus of this article is to highlight Tailor darts venue and Pop Dart.
Admittedly, I only know a bit about soft-tip darts, far less about modern technology, and near nothing about shopping. But even I know that Terminal 21 is one of the most popular shopping centers in Bangkok. And right across Sukhumvit Rd (off BTS (skytrain) – Asok Station E4 – Exit 2) is Tailor Bar. On the second floor is their darts and pool areas overlooking the Terminal 21 main entrance.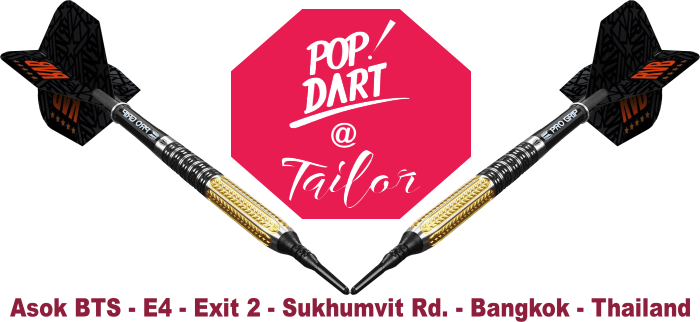 Tailor Bar is truly unique as it is themed after a tailor shop. Table bases made from old style sewing machines and ground floor with windows actually looking into an adjoining working tailor shop. Now for those who know Thailand – you know that tailor shops are not exactly a rarity. But a tailor themed bar – I know of no other. A unique styled bar in Thailand? Unusual? Quite possibly the only one. Ha – wonder how many folks assumed the bar was named for darts great 'Phil Taylor' and just assumed that I miss-spelled it?
Now admittedly, I'm more an old school steel-tip player but always enjoy the opportunity to play and learn more about soft-tip. The Pop Dart app really impresses me – the app uses GPS location to find locations closer to users and sorts it by the shortest distance. You can also use it to contact other dart players to let them know that you're out and about looking to play darts. What personally appealed to me about the Pop Dart unit is its simplicity. I really like that – no flashing lights and noisy bell and whistles.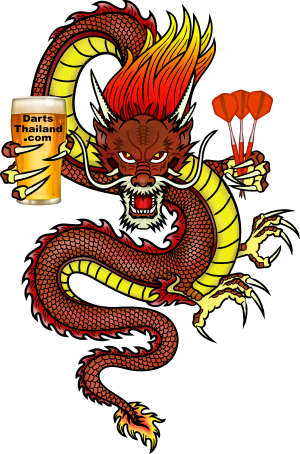 So is DT becoming exclusively a soft-tip website. No not at all. But the truth is soft-tip venues now far outnumber steel-tip venues here in Bangkok. And it looks like Pop Dart is the leader in total number of venues. Stay tuned for news of future darts events at Tailor Bar and other Pop Dart venues. NOTE – All known Thailand wide darts events are published on our FB Discussion page as soon as we learn of them. ALSO – DT will soon be publishing an updated list of darts venues both soft and steel.
Useful Links to Pop Dart
POP!DART | Official Site
http://popdart.com/
POP DART Thailand – Home | Facebook
https://www.facebook.com/DartvaderTH/
Until Next Time.
Good Darts !
Johnny
DartsThailand.com