Post Christmas Greetings & hope all your wishes and expectations came to fruition. It's always with great pleasure when we here at DT get to introduce a new darts venue. And in this report – we'd like to spotlight Tokyo Hustler a Bangkok soft tip darts bar. On DT's FaceBook Discussion Page we "shared" Tokyo Hustler's advert for their recent 9 Dec Lucky Draw tourney. But we hadn't been in for a look till just the other day. If you find yourself in Bangkok looking for a good soft tip venue – check out Tokyo Hustler.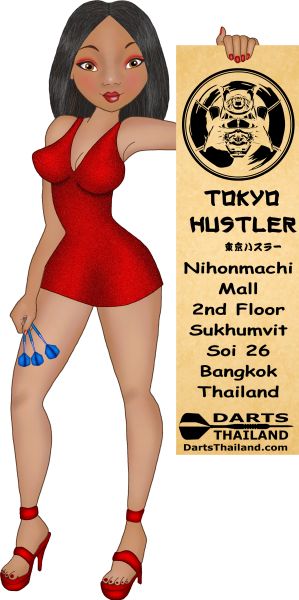 Tokyo Hustler is under the watchful eye of its most affable publican – Tao (meaning Turtle in Thai). As Tao felt that was important enough for me to annotate in my notes – I will include that here. Tao has quite the operation – spacious with a well-stocked bar, sushi bar, pool table, shuffle board and last but certainly not least – two VDarts electronic soft-tip units. NOTE two additional VDart dartboards are added for their darts events.
Tokyo Hustler holds their Lucky Draw Tournaments every two to three months. With the top prize of 8000 Baht and second of 4000 Baht – it's no surprise of the great turn out. Stay tuned to the DT FB page for their next Lucky Draw event. New players are welcome. Right now Tao is looking for more players to join the Tokyo Hustler's team on the Monday night pool league.
Fans of international sport can always find their match on one of the six large screen TVs. One sport that I feel receives too little attention is – beer pong. Fear not Tokyo Hustler has live in-house competitions! In the accompanying photos are some pics of their sushi bar – but no worries for those who are not fans of sushi. Are there really such people? Tokyo Hustler has an extensive menu that includes a wide selection of Japanese, Thai as well as international cuisine.
In business for a year and a half their business hours are 6 PM till 3 AM daily. Tokyo Hustler is located in the Nihonmachi Mall on the second floor on Sukhumvit Soi 26. They are close to the BTS (sky train) Phrom Phong stop. An additional selling point of Tokyo Hustler is convenient parking right in the Nihonmachi Mall. Be sure ans tell Tao that you learned about Tokyo Hustler here on DT. Finally if you're not already connected on FaceBook – here's their FB link – https://web.facebook.com/tokyohustler/
Well I do believe I hear a draught beer calling me. So until next time – Good Darts! – Johnny