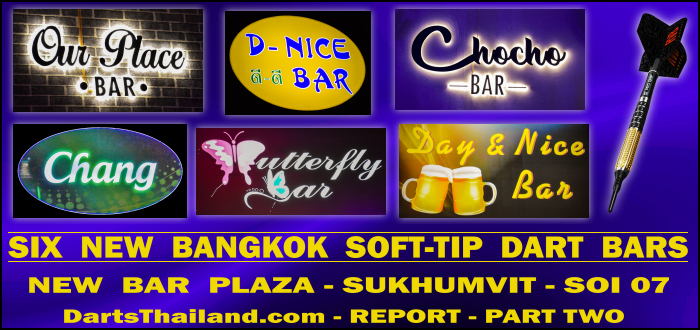 Welcome to Part II of DT's coverage of the ongoing developments from Bangkok Sukhumvit Soi 07 and its still emerging new bar plaza. Still not sure of the name of this new plaza, but will report that as soon as we can confirm it. It ain't every day that we get to report on new dart venues, let alone multi-dart-venues at one location. Further updates will be added as we learn of these.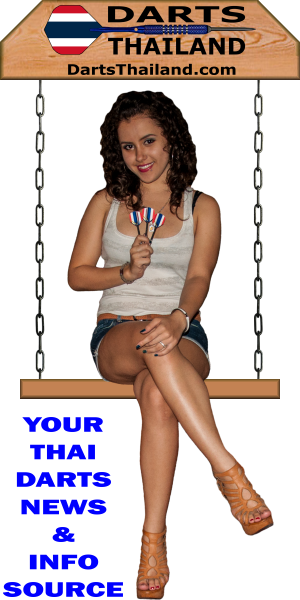 Most of the bars in this plaza are small, really small even by Thai standards. However this fact seems to have had a good result for darts. Being so small, a pool table was not an option for most of the bars so darts became the preferred bar game. But even the larger plaza bars that have pool tables have also included darts. As seen in our prior report featuring Moonshine Pub – they are the only venue in the plaza that have steel-tip darts.
Easy enough to spot as you walk in Soi 07 is "Our Place" bar, one of the larger bars in the plaza. They were formerly known as "Meaw Meaw Bar" when located in the now defunct Queen's Park Plaza on Soi 22. This bar seems to have it all with a large open-air area including their bar, a pool table and seating to watch the street traffic go by. Behind the double doors is their indoor area with another pool table, and two soft-tip dartboards. This indoor area as with all the bars with indoor areas are of course air-conditioned.
To the right of Our Place is a walk way entrance into the inner plaza. In addition to Our Place – three other bars are right on Soi 07. On this night two were not open and I did not realize that Lucky Bar (photo below) was part of the plaza. Apologies to Lucky Bar and will include photos from inside the bar including dartboard and pool table on an update visit. Also included in our pics is the sign of Soi 07's best-known and celebrated Bangkok cultural landmark – The Beer Garden.
Going in the Soi 07 entrance to the inner plaza – Moonshine Pub is the first bar on your right. After Moonshine make a hard right you'll see "Day & Nice Bar." Continuing inward into the plaza you'll see many small friendly looking bars and a few shops offering food. Also seen in the photos below are some yet vacant spaces possibly waiting for "YOUR" future & highly successful Bangkok bar venture! – 5 5 5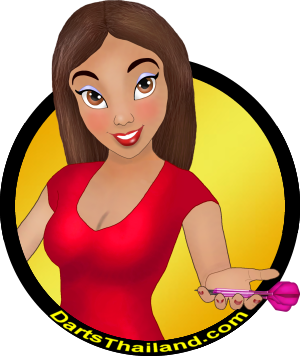 At the most inward part of the plaza we turn back towards Soi 7 on a different plaza lane. The first dart bar to come into view is "D-Nice Bar" followed by "ChoCho Bar" followed by "Butterfly Bar" and directly across the little plaza lane is "Chang Bar." Keep in mind that we here at DT focus on darts and this report highlights darts venues. But there are also many friendly looking watering holes without dartboards that look mighty interesting and inviting in this new plaza.
This is DT's two-part report on the new Sukhumvit Soi 07 Bar Plaza. But as we have left so many unanswered questions on this still developing plaza – we feel compelled to bring you a future update when we can confirm those loose ends. The dedicated staff at DT is committed to reporting accurate facts. If this requires returning multiple times to affable drinking venues with friendly, beautiful and charming ladies – we will. We are, after all, dedicated to bring you accurate information! – Johnny – DartsThailand.com