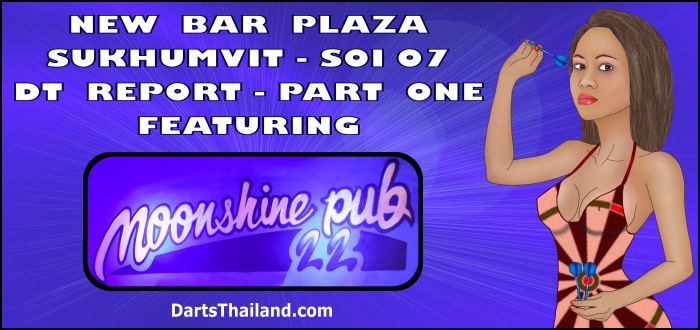 Greetings in this New Year to all of our darts playing compatriots world-wide. We here at DT are most appreciative to you darts players that follow us – you here in country – as well as those who visit regularly or whenever you can – and you players that have yet to visit but dream of the time that you can make that visit a reality! We await at the darts oche to show you our Thai darts hospitality.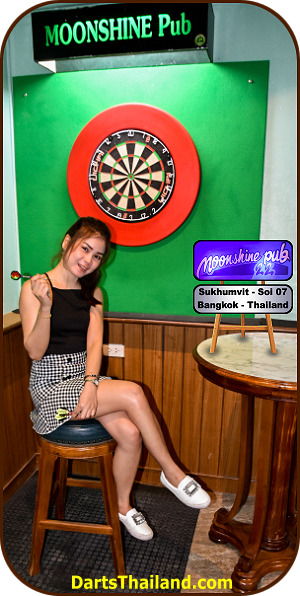 It's always sad news for us to announce a major venue complex closing like the Queen's Park Plaza on Sukhumvit Soi 22. Final call on all leases is Friday 31 Jan. Our DT crack (aka crackpot) investigative crew most recently made a visit to the bandy new & still being developed bar plaza on Sukhumvit Soi 07. Wow, a real pleasure for us to report new & developing darts venue news here in the heart of Sukhumvit, Bangkok. As of this time we could not confirm the name of this new bar plaza. For any of you "old hands" that know Bangkok – this new bar plaza is just in Sukhumivit Soi 07. It's on the left extending up to the renowned Soi 07 Beer Garden a popular cultural attraction.
In Part One of our report on this new bar plaza – we feature the Moonshine Pub. We were met by its affable publican – Wassana. As she reminded us, although nearly complete there are still some final touches to be added. Our visit was two days before the final closing party of their Soi 22 location. The photos of their mural is from a side wall. The mural on the wall with the entrance door is still being painted and will be included in the future.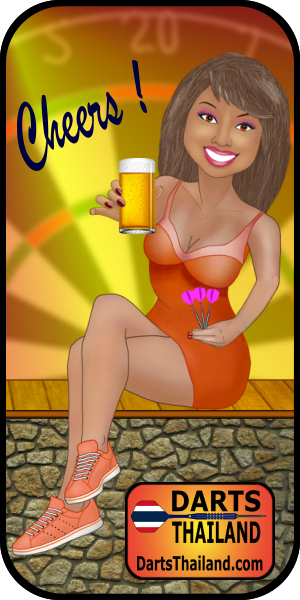 The new Moonshine Pub has a lot of the feel of its popular predecessor – a dartboard, pool table, excellent menu and tables & booths. The bar is nicely fitted out including Heineken draught. And there are plenty of large-screen TVs for you sports fans. New and different – yes – but for you long-time Moonshine patrons it's reminiscent of the original location. Although many bars in this new plaza have darts – the Moonshine is the only steel-tip venue.
In Part Two of this report we will feature the soft-tip venues in this new plaza. We plan to publish that soon and will hopefully have a confirmed name of this new bar plaza. Until then – Good Darts! – Johnny