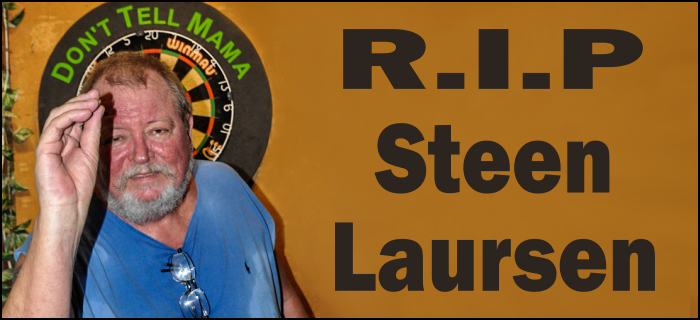 I have sad news to report that our long time good friend Steen has lost his battle with cancer. Our deepest sympathies from the New Cowboy darts players to Mia and all family members. Steen's idea of friendly challenge matches between our Bangkok team and his Jomtien Beach team became a regular event with all looking forward to visiting the opponents venue where the real serious competition was between the host venues outdoing each other with their hospitality and excellent food layouts.
More important than the actual dart matches were the friendships that developed as a result of these rotating friendly challenge matches. I first met Steen after visiting a mutual friend's bar in Pattaya where Steen played on their darts team. Although we did not meet that night Steen did like some of my darts promotion adverts and contacted me via internet. We had the common interests of beer drinking, darts and getting people together with darts promotions. The idea of friendly challenge darts matches between our darts clubs was hatched.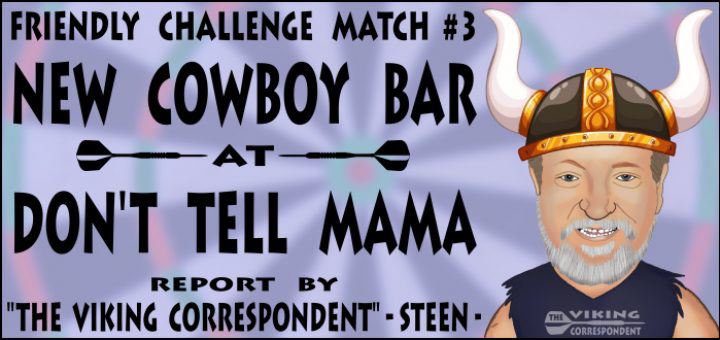 MATCH #3 – NCB at DTM by Steen
11 JUNE 2016
http://www.dartsthailand.com/2016/06/11/match-3-ncb-at-dtm-by-steen/
I fondly remember Steen's answer to those questioning him on how we had such a popular Jomtien/Bangkok darts connection. Steen – "Me and Johnny are willing to put in more effort and time to make it happen." Although we both enjoyed this effort – most people don't realize the work needed to set up any event. My friendly darts challenge to Steen was to do the write-up for one of our friendly matches darts meetings. He accepted and you can click on that link from here to read his excellent report. R.I.P my good friend. – Johnny – DartsThailand.com
To post your thoughts please click on one of the following links.
DartsThailand
https://www.facebook.com/DartsThailand/
* * * OR PREFERABLY * * *
DartsThailand (Discussion Group)
https://www.facebook.com/groups/dartsthailand/