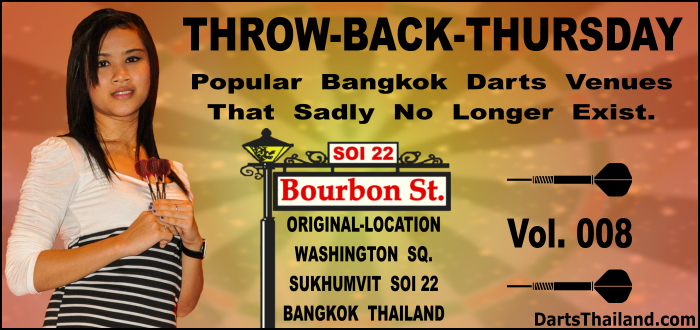 Welcome to our newest TBT update – late as usual & expected. If there is one dependable solid, consistency we can claim here at DT – that is we almost never are on time or schedule with any report. Ah, attribute that to the sunny, funny, never hectic, laid back attitude here in Thailand. Life is good !
Our TBT series is mostly a sad one remembering popular darts venues that no longer exist – but – this report is positive. Bourbon Street Restaurant & Oyster Bar continues to thrive today at their current location @ Ekkamai Rd, Sukhumvit Soi 63. Anyone in Bangkok a day or two knows of this excellent eatery. If you're of the few who do not – please check out the following link to their FB page. I can personally attest to their great grub as they are my number one "go-to" for food delivery. Minor sad point is that Bourbon St. no longer has darts available but business is business.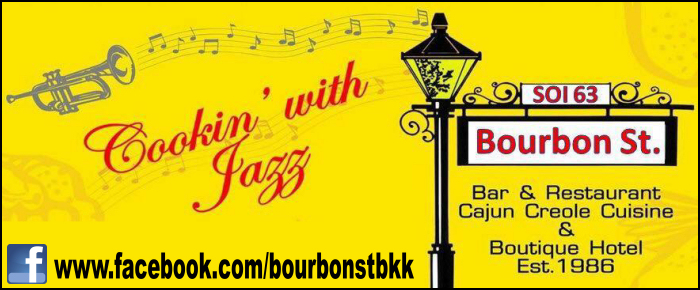 Bourbon St. was established in 1986 – the early years of Washington Sq. Back then pool tables were not so common and darts (steel-tip) ruled as "the" most popular bar game. Bourbon St. eventually became the first venue in the established steel-tip community to welcome in soft-tip darts. Medalist ruled the soft-tip world back in the early days, manufactured here in Thailand and with cooperate headquarters in Washington State run by Lee Peppard.
With three soft-tip dartboard units in place – Bourbon St. was intended to be Medalist's Showroom in Bangkok. Then it was suggested that a weekly soft-tip event here would be a good idea. Yeah, good but then someone suggested that DT's own Kerian & Johnny host this event. Keiran felt he was already spending too much time away from his wife and family promoting darts events. My main objection to this idea was who would ever want to see two ugly goomers (no offense Keiran) running a darts event in Thailand.
Ah back to our posted pics – the lovelies Miss Sai & Miss Tum Tum were DT's suggestion to host a such event. Darts legend Paul Lim along with Medalist's Lee Peppard were on hand to evaluate these two potential gals. They were easily "darts" qualified to host such an event but sadly it never too off. Forget it boys – no idea where Miss Sai is now-days. And the lovely Miss Tum Tum is happily married raising a lovely daughter.
Although it was the first time playing soft-tip for both gals, it was Tum's darts that most impressed Paul Lim. – Paul said with a bit of soft-tip playing experience – Tum could be playing in the women's top level of competition in Japan. From long time friend of DT & BKK darters – "another Paul" – aka Dartoid commented on a DT video that Tum would be rated in the women's top ten in the States. Check out the vid . . .
Dartoid Vs. The Ladies : Bangkok Thailand 2009
https://www.youtube.com/watch?v=-3tz_fvthKA
Bourbon St. in their Washington Sq. location expanded over the years and their final extension was their game room. Great area for all kinds of special events including a Medalist qualifier for new soft-tip darters to gain a needed rating to participate in Medalist events.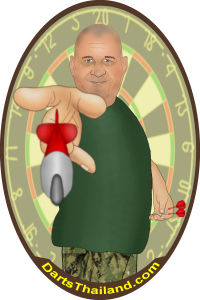 Like many, I miss the old Bourbon St. location in Washington Square. REMEMBER – Bourbon St. Restaurant is still in operation and highly successful @ their current location @ Ekkamai Rd, Sukhumvit Soi 63. Check 'em out – you'll be well satisfied !
In closing, I'd like to point out that our good friend Doug Harrison publican of Bourbon St. still holds "THE" Thailand Darts record of venue owner or manager with most gals at their dart throw. Good Darts Doug! As Thailand continues to re-open and hopefully gets back to normal – if you want to challenge this well esteemed darts venue record contact us here at DT. Many thanks for having a look at our stuff here on DT. Until next time stay well & good darts ! . . . Johnny – DartsThailand.com